The Use of Heraldry
in Our Home Office Makover
A while ago, David took a week's "vacation" (it's hard to think of it as a real vacation when you are working all day long) and redid his office here at Appleton Studios in an Old World heraldic theme. We think you'll agree from comparing the "before" to the "after" pictures below that it's made a big difference in the room!
The colors were selected from the fabric we found to make the drapes. The upper part of the walls was done in a light cream base coat, with a two-shades-darker coat from the same paint strip applied with a sponge roller over it. The lower part of the wall is done in the dark blue of the drapes with a light cream pattern of fleurs-de-lys applied to it. A solid band of the darker cream color was applied to the top of the walls, and then we stamped a series of blue shields with light cream charges applied to them on it. The drapery rod and holdbacks were found in an antiqued brass fleur-de-lys pattern. The doors to the closet were painted in the light cream base coat; then the darker cream was applied over that and a pattern worked into the darker coat while it was still wet to give it some texture. Since that time, we've added a pair of heraldic stained glass windows, found as salvage in an antique store, which add even more color and interest to the doors, especially with the light on behind them!
The other big project in the room was the back-lit stained glass window, which doubles as a work light over the table.
But enough chatter ... you want to see the pictures!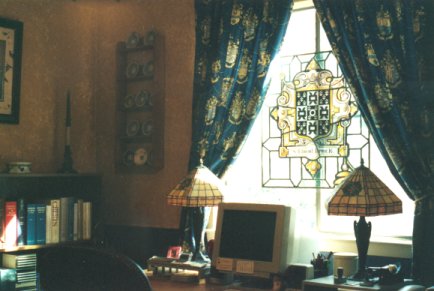 This one looks darker because of the brightness of the sunlight coming in the window. I probably should have shot this one later in the day, when the sun was not coming in the window. (On the other hand, the large stained glass shows up very well backlit this way!)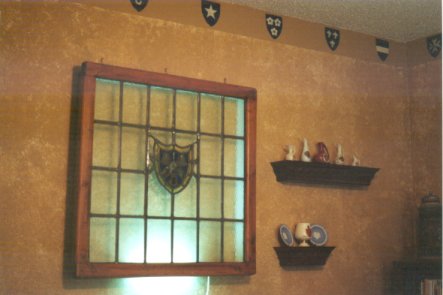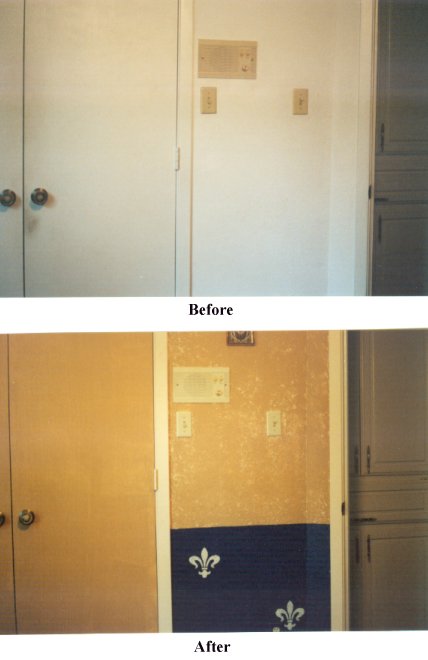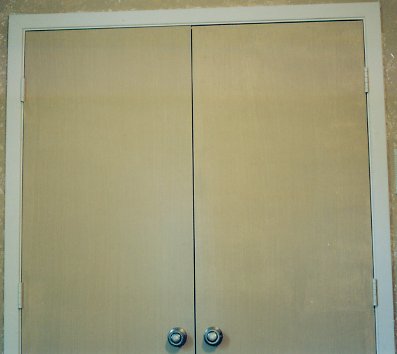 After, but before the stained glass windows.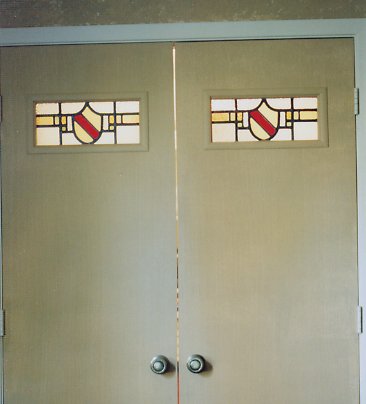 And with the stained glass framed in, backlit from the light in the closet, er, "file room".

If you'd like to discuss ideas and possibilities of decorating in an heraldic or medieval theme for your house or office, please contact us at the address, telephone number, or e-mail addresses here, let us know your desires, and we'll be happy to discuss the possibilities with you.

Return to the Heraldic Arts Main Page